I am sitting in the dark typing out the draft for my blog.
The electricity went out already. But, I still didn't feel sleepy.
What a long warm and dark night for me.
This few days, busy with my work. I don't have any spare time to crochet.
But yet I managed to squeeze out some minutes to make a few strawberries.
I promised to make myself a bowl of strawberries.
Although still many more to go. I believe I can make it.
It will be nice to see a bowl of berries as decoration in the kitchen.
Today, I managed to make 5 red berries.
How nice is it when I arranged it into a star-shape.
This is the close up for the pink berry. It looks so difference than the other.
As there are so many strawberries around, I make some of it as key chain.
I hung the keychain on my chili plant. It is too bad that my chili still green in colour.
Hmm..That is all I had done for today.
Wish for a better tomorrow.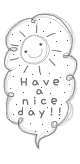 ps: I can't wait to finish my whole bowl of strawberries.Argh!!