Assalammualaikum and hello to all readers.
Hari nie nak blog pasal my life pulak. dah lama dah tak tulis yang sweet2. Sejak dah mengandung dan melahirkan Baby Qaseh, Hana dengan husben jarang sangat dapat dating. Dalam setahun ada 2 atau 3 kali kot. Itu pun hati tak sedap nak tinggalkan Baby Qaseh dengan nenek dia lama sangat. Sebab kat rumah hanya ada nenek seorang. Seorang memang susah nak jaga baby. Nak gi tandas kena tunggu baby tidur. Nak mandi pun kena pasang telinga, manatau baby dah bangun tidur. So, sekali dua keluar dating dengan husben dua orang memang jarang dan kadang-kadang niat tu terbatal saje. Tapi kali nie lain dah..
Baby Qaseh dah pergi Nursery!! Mami Qaseh memang tak sudi hantar Baby Qaseh ke Nursery, tapi apa boleh buat, dah takde orang boleh jaga Baby Qaseh. Takkan nak Mami Qaseh henti kerja kan? So, sudi tak sudi, pergi juga! Baby Qaseh dah cukup besar untuk bergaul dengan kawan-kawan yang lain.
Mai, Hana tunjuk gambar Baby Qaseh happy happy main dengan kawan.
Dapat teka ke siapa Baby Qaseh??
Nie dia yang tengah sibuk naik rocking horse.
Hari nie keluar sampai Georgetown sebab tadi terima satu panggilan dari Sektor Penilaian dan Peperiksaan, diminta untuk pergi menuntut cheque. Bukan apa tiba-tiba dapat cheque, nie sebab hari tu dah susah-susah menjaga UPSR. Dah la tiga subjek berulang.
Sektor Penilaian dan Peperiksaan Pulau Pinang ada di Bangunan Tuanku Syed Putra tingkat 3. Mana lokasi? Dekat dengan Pos Office jeti Pulau Pinang.
Hah! Sekejab saje ambil cheque,tapi perjalanan ke pusat bandar yang penuh dengan kenderaan dan susah payah nak cari parking. Jenuh! Tapi takpe, alhamdulilah rezeki diberi jangan ditolak.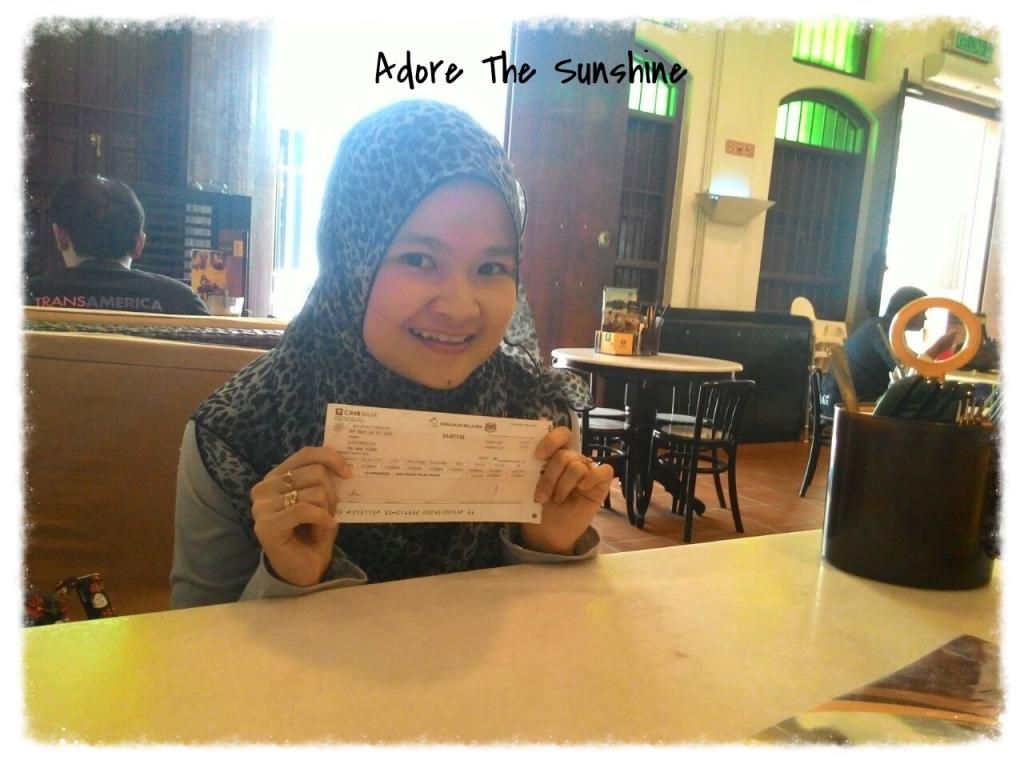 Lepas dapat cheque apa lagi? Jalan-jalan cari makan la. Hah.. nie yang pertama menarik perhatian dan minat Hana. Beca yang jual air kelapa dan sea coconut.
Bukan selalu boleh nampak sea coconut nie. Ambil gambar cantik-cantik. Hah!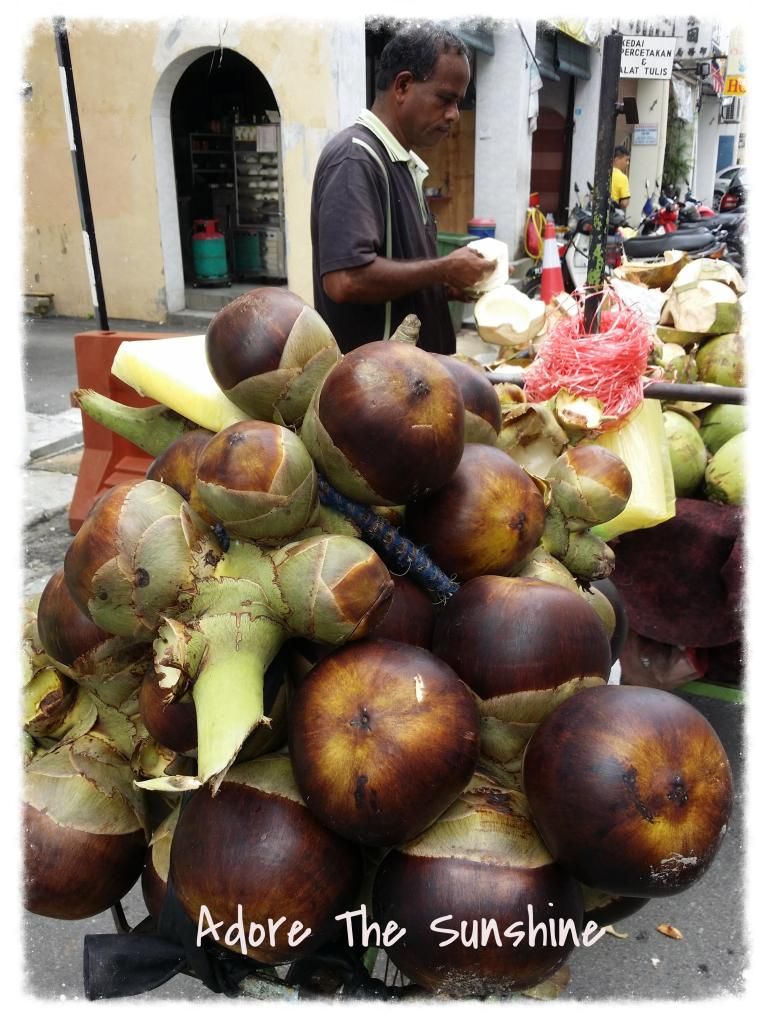 Selalunya order air kelapa saje. Nampak kelapa kan lebih besar daripada sea coconut, lagipun sea coconut pun lebih mahal banding dengan kelapa biasa. Husben order air kelapa macam biasa. Saya pula masih ragu-ragu nak air kelapa ke air sea coconut. Tak pernah minum yang fresh from the fruit. Nak try la,tapi mahal nie. Sebiji yang kecik nie dah RM4.50. Kelapa yang besar tu baru RM3.50.
Takpe la Hana nak try juga kali nie. Selalu kena halang dengan alasan mahal la, tak sedap la, tak baloi la. Sendiri tak try mana tau kan? Ah Neh, sea coconut satu.
Ah Neh tu pun ambil la sebiji. Phek! phek! phek! Ah Neh buang kulit sea coconut tu sekelip mata aje. Camera belum sempat nak snap dah nak siap dah. Aik? Mana air dia?? Sea coconut takde air di dalam la. Dia ada isi buah dia saje la. Ah Neh tu tak sebut apa-apa aje, bungkus dalam plastik dan hulur kat saya yang mata membulat kat situ. Ok.. Nie first time tau, sea coconut asli dalamnya takde air, hanya ada isi buah.
Tu la, kalau tak try mana la tau kan. Sekarang kan dah menambah ilmu pengetahuan. Korang pun baru tau ke? Ke Hana nie je yang tak tau nie?? Sob sob..
Sea coconut nie nak sambil jalan sambil makan memang susah. Kena kopek kulit dia baru dapat makan isi. Rupa-rupanya isi sea coconut yang selalunya kita makan dalam tin makanan tu dah dicampur dan direndam di dalam air gula. Sea coconut fruit mana ada air.
So, kami pun cari la kedai makan yang dekat-dekat untuk isi perut. Baby dinasour dalam perut dah mula menari-nari dah. Kena bagi makan dulu ha.. Waktu duduk tunggu makanan sampai nie la Hana dapat kopek kulit sea coconut nie dengan tenang.
Ha. Nie snap daripada handphone husben Hana ( Zenphone 5 front camera).
Yeah,order Hana sampai dulu. Oldtown Egg Noodle! Suka sangat makan noodle, hari tu sampai buat sendiri kat rumah. Nak buat entri pasal homemade egg noodle tapi takde tangan tolong snap gambar, entri pun tak jadi. Lain kali nak suruh En. Husben ambik gambar the making proses la.
Nak pose cantik-cantik dengan Egg Noodle Hana nie.. Sedap!
Sorry ya En Husben, Hana makan dulu. Lapar dah nie. Air Lemon Ice Tea pun belum sampai lagi.
Lama tak lama jugak la nak tunggu, En Husben punya Nasi Claypot pun sampai. Tunggu apa lagi? Makan la! Eh..wait..jab Hana ambil gambar. Nasib baik pakai camera handphone aje, kalau pakai DSLR, tak makan la husben oi.
Eh, tak habis ambik gambar lagi nie.. Haha, takde la. Nie saje nak candidi En. Husben makan.
Dua orang makan set lunch kat OldTown dengan dua Ice Lemon Tea, harga RM27.30. Hana rasa harga takla mahal, dah biasa dah. Alhamdulillah, kenyang! Burp!
Patah balik pergi ambik kereta pastu heading home. Hmm..kira bayaran untuk Pegawas UPSR dah masuk dalam perut. Haha. Ok la tu, rezeki makan.
Habis cerita...mini dating la nie,hehe..
Ok,tu je.
See ya next time.
Hugs and Kisses,
Hana.