A very good day I wish to all who drop by, swing by, hop by or pass by to visit my blog. I was browsing my pictures of my last trip and some pictures just gave me some ideas to blog. I want to talk about breakfast! Haha..How many of you really take breakfast early in the morning before going to school or work or doing any activities? I am the kind of lazy butt to wake up really early to get myself ready and eat some breakfast before going out. But, sometimes there is exception. I eat breakfast, when I am on trip to somewhere, when I got my holiday, and when there are someone who accompanies me.
When I was a kid, ya I seldom get my breakfast also. *No wonder so skinny..* My mom made me chocolate milk, bread with peanut butter jam, sometimes fried rice, fried eggs, hard boiled eggs, porridges. Most of the time, I just ate a few bites and left. I super hated fried rice; my stomach is not ready for heavy food in the morning. My stomach favorite food in the morning is something hot and in liquid form. So, you can guess my favorite breakfast can be … milk? Nope. I don't know why my taste buds don't really answer the calling of milk. I love hot porridge in the morning. The half solid half liquid form of food, slide through my throat and warm my empty stomach. White porridge always reminds me of my great grandpa who likes to make porridge in the morning.
Now, let's us see what my topic about, the "Great Breakfast"?
How great that breakfast really is? Hmmm…it's great where you can get it anywhere if the branch is there. I'm not really promoting it, but just feel want to share my great feeling about it. So, what it is?
McD Family Breakfast.. Hee hee… nothing so special actually. But, I felt great that day and the breakfast made me felt that way too.
I never really order such a big breakfast before. This time, my Deary and I ordered it for preparing ourselves on road later. It was early in the morning and we were short of time to look for some local café or shop for breakfast. McD was the choice then.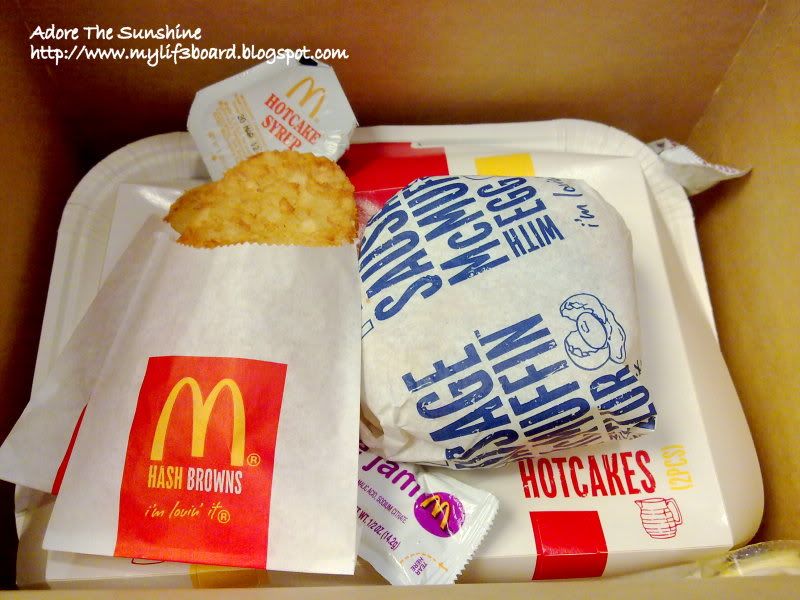 Inside the McD Family Breakfast, it made me so excited but still patient enough to snap a picture before we dig our hands in it. It was plenty food for both of us. We had fun! Yet, drink first before you taste any food. Early in the morning, I won't want to miss out McD Coffee..Yeah! I like the coffee very much, this coffee always reminds me of my old times which I had my breakfast with my grandma. She always make this kind of black coffee and just add in some sugar so that it won't taste so bitter. So, here we go the sugar..I put in three packets. I like my coffee to taste that way.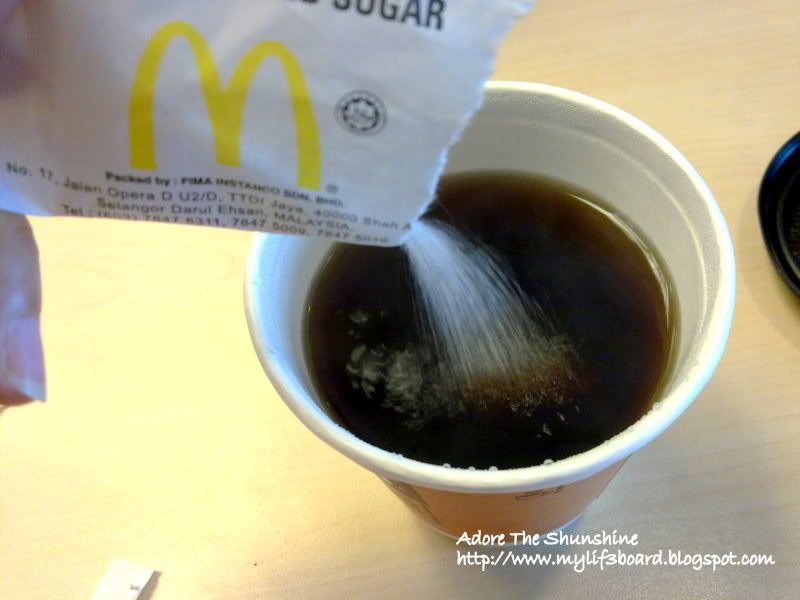 After an awakening black coffee, let's me start with the breakfast i had ordered. The big McD Family Breakfast comes with English Muffin, Bacon and Egg, Hotcake with syrup and 2 hash browns. I picked Hotcake with syrup because it look not so heavy and I believe my stomach agreed too.
Opps,my bad. Where is my Deary breakfast?


Sorry Deary, here is your breakfast. Hee hee..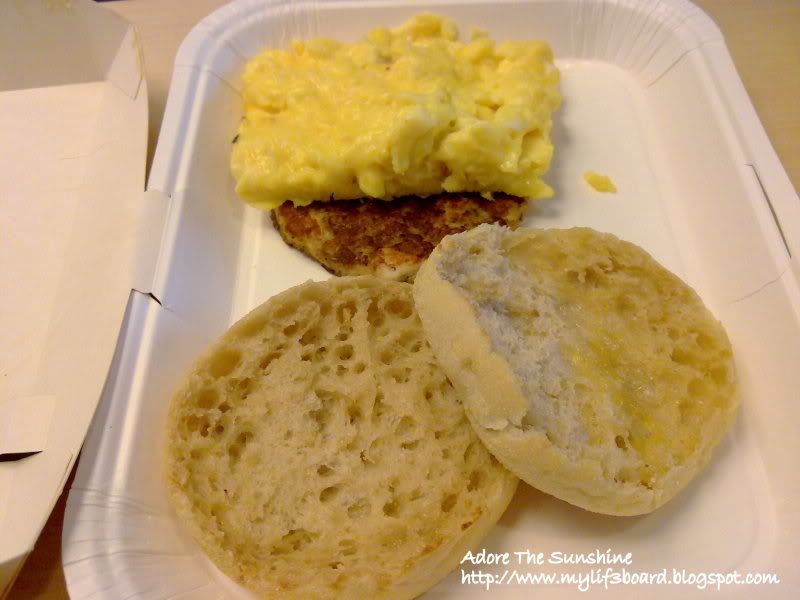 So, enjoying my hotcakes with grape jam, butter and syrup. It taste so yummy and I managed to keep my hands away from it for awhile to take pictures. There, I summarized the pictures in a collage.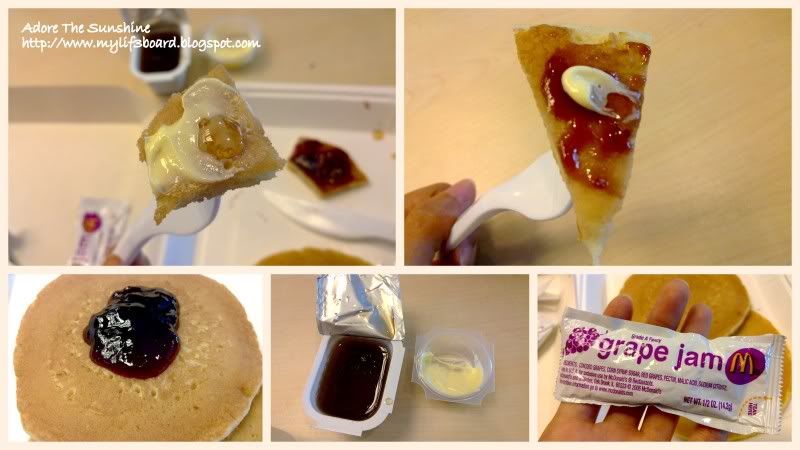 The hot pancakes with butter, jam and syrup was just so great. I never really enjoy the breakfast so much except this time while traveling. First time in my breakfast history, I actually asked for more as there is still plenty of syrup that I haven't finish. I wished to carry the syrup away with me and I told Deary about it. Sadly, the seal already opened and it will split and spoil. I had to try my best eat up as many as I can, yet it is so sweet that I can't eat it like that.
Breakfast time was over soon. We packed our stuff and get ready for the journey back home. This big breakfast will sure keep me awake until lunch time. Coffee was a great wake up call and the sweetness of the syrup gave me sugar rush!!Haha..
Deary refilled his cup of coffee before taking off. And, I got my sweet surprise that Deary brought back a unopen maple syrup for me to take home. Arh...I am so happy.
Hope I shared some of my happiness with you. Good day and have a happy weekdays ahead.