Hi peepers, talk about growing our own vegetable. I did remember last time i posted about some home grown
herbs
. Today, I got another harvest again, but is about vegetable.
Remember Mochi the bunny rabbit in my
previous post
? There is a picture of Mochi with the surprise winter melon. That picture was taken in last week, and guess what. The melon grown well and now it is cover with white snowy powder. That means it is ready to be eaten.
Here is how it look when it is ready.
wintermelon 1
A layer of white snowy powder will cover the whole melon. Maybe that is how winter melon get its name. Yet, be careful when picking the winter melon too. It also got some very tiny hairy prickles that covered under the white protective powder.
Hope these pictures clear enough to show the tiny points.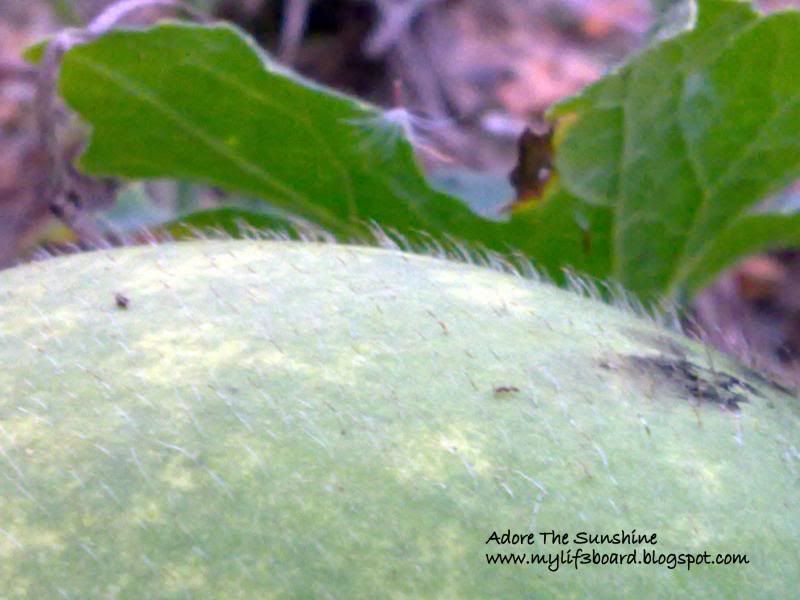 You can hold it gently and avoid being hurt by the small prickles.
When I was harvesting the winter melon, to my surprise. There are another 5 more winter melon on the plants. Wow, there can be a great feast of winter melon. Well, I'm not going to eat all of them. I can give it to my neighbours!
Here have some peek of the cute winter melons. Love them!
wintermelon 2 & 3
wintermelon 4
wintermelon 5
So,where is the winter melon that I picked just now?? Here it is!!
My winter melon is big enough for me as it almost as big as my face. :D
Now, time to cook it. First, wash away the white powder layer and the prickles will drop also. Winter melon now will become summer melon because the white skin become green skin. Haha.
Cut it into half and you will get its seeds inside.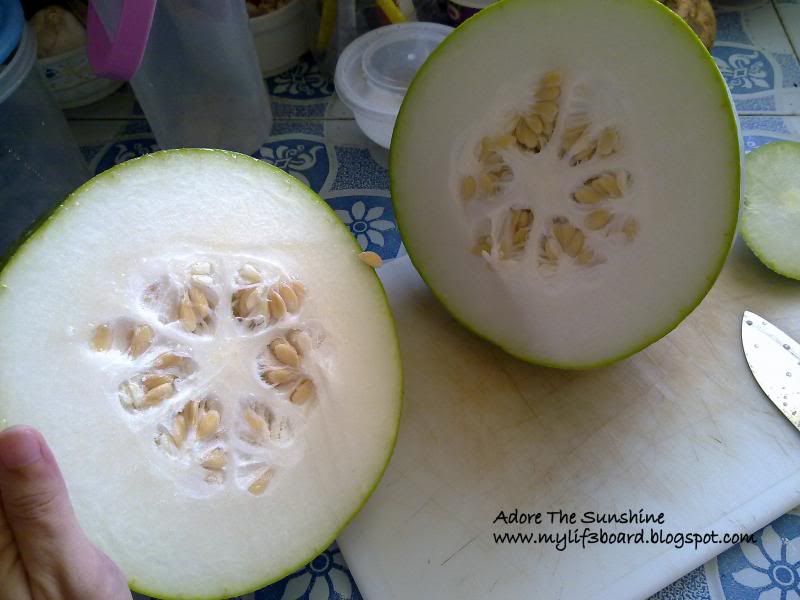 Wanna grow another winter melon plant? Easy, just take the seeds and throw it at your backyard. It will grow by itself. Winter melon plant is a very strong surviver. Or if you love your garden to be tidy, just dig a hole where you prefer it to grow and put the seeds inside.
So, today lunch will be winter melon soup. Clean your winter melon then cut it into half. After that cut it into small cube size so it can be cooked easily. Get ready the chicken stew first before putting in the winter melon cube cut. Set it at medium heat to boil the stew then turn it into low heat to slow cook it.
If you got a slow cooker, you can just put everything inside and let it cook for you. I cook it for about 1 hour before serve.
The winter melon hard texture will be soften and you can feel it melt in your mouth when you eat it. I love this kind of slow cooked winter melon that you can feed yourself even when you are sick and unable to eat solid food.
So, why not grow your own vegetable?? It is healthy and save your money too.
Ok, that all for today. Hope you have fun reading my post.
Cya next time.
[Ad]
Meet the A-Class - it's a class above.