Hi all peepers!! Well another late post about again. Today, I wanna share my Chinese New Year celebration on this year. If I said, nothing special in this year and everything just went well like last year, this post gonna be boring..Haha. Anyway, this year did got something special than last year. Because this year, I AM NOT GOING TO GET ANY ANGPAW FROM MY RELATIVES ANYMORE!! *cry cry cry*
In the cycle of 12 zodiac of Chinese Calender, this year is the year of snake. I believe many of you who get to read this post is afraid of snake. Well, even though snake is a type of dangerous reptile, it represent some part of human attitude and behavior. According to Chinese symbology in Wikipedia, "
snakes are regarded as intelligent, but with a tendency to be somewhat unscrupulous."
For me, some snake cartoon can be just as cute as other animals. Right?
grabbed from www.vectorstock.com
Ok, back to my special small things in this special new year..
First!
I have to answer the question that rings in your head, why am I not receiving any angpaw this year?
Because start from this year, is my turn to GIVE ANGPAW!!! to my younger relatives like my younger sister, brothers, cousins and nieces and nephews. WHY? It is because I AM MARRIED. Apparently, Chinese New Year is not fun for me anymore. Getting older each year and the angpaw also lesser and lesser each year. Miss the time when I was a kid, my mom even bought me a waist pouch to keep my angpaw. Anyway, next year, I will be giving angpaw and receiving angpaw again, for my coming new born child. Is another way to get my angpaw back, haha!
Second,
I finally get myself a CHEONGSAM! A pink cheongsam and I like it very much. Yet this year I didn't shop much and my new shirt also not so many, but with the nice cheongsam I already very satisfied. It is not so expensive yet the quality is good. It is under MYR100, so I just grabbed it when I tried on it. I am going to wear it at the first day of Chinese New Year.
Here a peek of my cheongsam. Don't worry, you will see me wearing it later.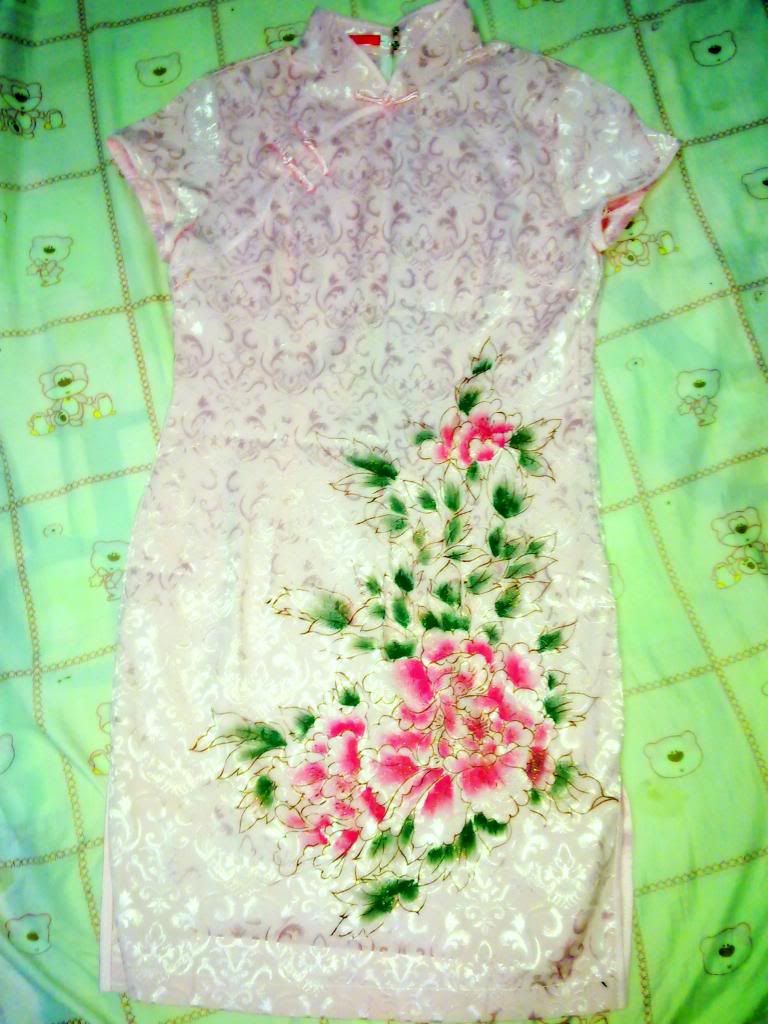 My sweet cheongsam
Third,
The first year that celebrate Chinese New Year with my husband. Everyone was excited to meet him. Well, not like I was hiding him behind my family before married. It is because when we were dating, he can't manage to get any holiday for this Chinese New Year celebration. So, my big family didn't get chance to meet him before this. So, this year will be me bringing along my newly-wed-husband to meet my whole family.
And now is the time for the pictures to tell the story. I'm getting lazy to type. Hee hee.. Anyway, hope you enjoy the pictures.
Let the pictures rolling..
First day,
Morning with my new cheongsam and get ready to give angpaw to my sister
The happy face that get her first angpaw from me
Family picture
Gather at uncle's house with my other cousins
Second day,
Second day of CNY, be with my lovely mom and my small family
Friends gathering while in the week where I am still holiday in my hometown, Penang
Ok, uploading this pictures directly form my instagram and facebook is such a cheating act. Haha, but I have fun caption it and hope you have fun reading this post.
Happy Chinese New Year to all of you out there.
Cheer!!